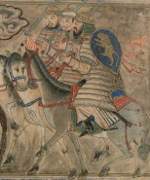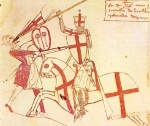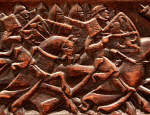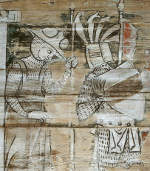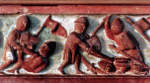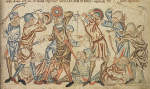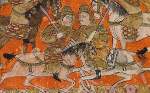 Download 2 free e-books
from Amazon Audible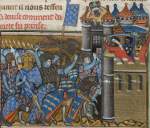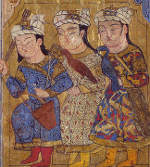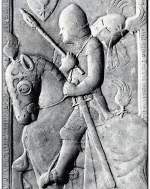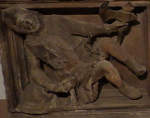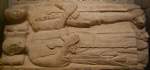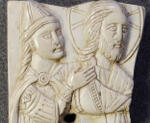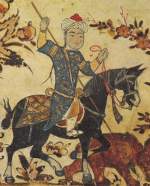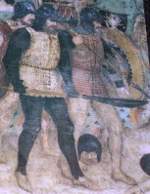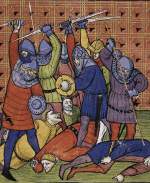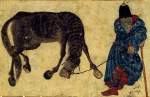 14th century resources:
Extracts from and sources for Armies of the Middle Ages, volume 1 by Ian Heath
Extracts from and sources for Armies of the Middle Ages, volume 2 by Ian Heath
Terminology in Armour of the Crusading Era, 1050-1350 - Western Europe and the Crusader States by David Nicolle
Goliath as a French Knight, Bible, Thott Ms.7, Konegelige Bibliotek, Copenhagen, c.1300
Mamluk cavalry on a pen box by Ahmad al Dhaki, Egypt or Syria, 1304, Louvre OA 3621
Martyrdom of St Thomas Becket, Ramsey Psalter Leaves, East Anglia or London, England, c.1300-1310AD.
Arab Costume in The Chronology of Ancient Nations of Al-Biruni, Ilkhanid Tabriz, 1307AD. University of Edinburgh Or.Ms.161.
Ilkhanid Mongols in the 1305-14 Jami' al-Tawarikh by Rashid al-Din.
Legend of the True Cross. Painted altar frontal, Stave Church at Eide in Norway, 1310AD, Bergen Museum
Queen Mary Psalter, England, 1310-12
Armenian translation of Pseudo-Callisthenes' History of Alexander the Great, c.1300-1325AD by the scribe Nerses.
'Fleur des Histoires de la Terre d'Orient' by Hayton (Hetoum) of Armenia. Catalonia, Spain, c.1307-1325. BnF, NAF 886.
Kitab fi marifat al-hiyal al-handasiyya by al-Jazari. Book of Knowledge of Ingenious Mechanical Devices, Syria or Egypt, 1315
Scots on the Charter from Edward II to the city of Carlisle, 1316AD
Effigy of Nils Jonsson, St Mary's Church, Sigtuna, Uppland, Sweden, 1316
A knight and a Granadian fight in the Usatges of Berenguar I, Spain
Tab from a Mamluk banner with linked crosses and pear-shaped medallion
Angevine Hungarians in the Provostal Church in Spišska Kapitula (Szepeshely), Slovakia, 1317AD
Early 14th century Mameluke costume in Kalila and Dimna
Gold Seal (bulla) of Thomas, Despot of Epiros, c.1313-1318AD, British Museum, 1948,1211,0.25.
Steatite Icon of Saint Demetrios as an archer, Byzantine Thessalonika, early 14th Century. Louvre OA 11219.
Byzantine Mosaic of the Census, Church of the Holy Saviour in Chora, Constantinople, 1315-1321AD
14th Century Illustrations of Flemish Costume & Soldiers on The Courtrai Chest (Kist van Kortrijk)
Illustrations of 14th century Flemish Militia from the Leugemeete Frescos
Effigy of Gruffydd ap Llywelyn ab Ynyr, Valle Crucis Abbey, Llantysilio, Denbighshire, Wales, c.1320AD
Italian City Militia on the Codex Manesse, 1305-1340
Swedish Knights on wall paintings from the Church at Södra Råda in Sweden, 1323AD
A Byzantine Style Fresco in the Church of Saint George at Anidri, Crete, Greece, 1323AD
The Diez Album, an early 14th century Ilkhanid copy of Jami' al-Tawarikh by Rashid al-Din
The brass of John de Creke, 1325. St Mary the Less, Westley Waterless, Cambridgeshire, England
Hardenberg's Codex of King Magnus the Law-Mender's Law, Norway, early 14th century
Paintings of Italian Soldiers of the early 14th Century
The wall paintings of El Partal, Alhambra, Spain, early 14th Century. Also known as the Torre de las Damas
Byzantine Style Soldiers in the Betrayal, Panaghia of Roussospiti, Crete, early 14th century
Soldiers in a fresco of The Betrayal, Church of Aghios Sotir in Potamies, Byzantine, early 14th century
Teutonic Knights Fight Lithuanians on a Frieze, Castle of Marienburg, 14th century
Iskander as an Enthroned Arab Ruler and his Guards. The 'Kitab al-Hayawan' of al-Jāḥiẓ. 14th century. Biblioteca Ambrosiana, Milan.

Knights and musicians in Fretwork around the Shrine of Elisabeth in the Teutonic Order Elisabethkirche in Marburg, Hesse, Germany, 1301-1350AD.
A Brass of an English Knight in Trumpington Church, England
Soldiers and artillery in the Treatise of Walter de Milemete, London, England, 1326-1327
Scenes from the Life of Saint Olaf, Altar, Nidaros Cathedral, Trondheim, Norway, first half of the 14th century
Theodore Stratelates, 'Fyodorovsky Gospel', Yaroslavl, Russia, c. 1327.
Drawings of an Irish cavalryman from the Magauran Duanaire, 14th century
'Vilardell slays a griffin', c.1329. Portal of Saint Iu, Barcelona Cathedral, Spain.
Ilkhanid Mongols in the c.1330 Kitab-i Samak 'Ayyar (part 3) by Ibn Abi al-Qasim Sharazi, Sadaqah.
Mural with a scene of the Martyrdom of St Thomas Becket, St Peter ad Vincula Church, South Newington, England, c.1330AD
Mamluks on the Baptistère de Saint Louis, 1320–40
The Anjou Legendarium by the Hungarian Master. 1325-1335. From the portion of the manuscript in The Morgan Library & Museum.
The brass of John de Northwode, 1330. The Abbey Church of the Blessed Virgin Mary and Saint Sexburgha, Minster, Isle of Sheppey, Kent, England
La Conquête de Constantinople, by Geoffroi de Villehardouin, Venice, Italy, c.1330
Fresco of Saint Demetrios from Dečani church, Monastery St. Theodore Tiro (Tyro), Visoki Dečani, Serbia, c.1330
A Byzantine Fresco of the Betrayal by Ioannis Pagomenos. Church of the Dormition of the Mother of God, Alikampos, Greece. 14th century.
English Knights and Infantry in Battle, Holkham Picture Bible, 1327-35AD, British Library MS Add. 47682
Islamic costume in Maqamat of al-Hariri, Österreichische Nationalbibliothek, Vienna, manuscript AF 9, 1334

King Karl Battles the Heathen. 'Arabel' by Ulrich von dem Türlin in the Willehalm-Kodex, Fritzlar (?), Germany, 1334AD. Universitätsbibliothek Kassel.
Schulz-Gutman Shahnama. Isfahan, Persia, c.1330-1340. Ilkhanid Illustrations. Metropolitan Museum of Art 1974.290.
Ilkhanid Illustrations in the "Great Mongol" (Demotte) Shah-Nameh (Shahnama), Tabriz, Persia, c.1335.
Capture of Damietta, 'Vie de saint Louis' (Life of St. Louis) by Jean de Joinville, 1330-1340, France. BnF Ms. Fr.13568
The Oldenburger Sachsenspiegel Rastede, Germany, 1336
James I, King of Aragon, enters Valencia, conquered from the Moors. Fresco in the Castle-Convent of the Knights of Calatrava, Alcañiz, Teruel, Spain, 1325-1347AD.
Islamic costume in Bodleian Library, University of Oxford, Maqamat manuscript Marsh 458, 1337
Frontispiece from a Mamluk Sulwan Al-Muta' of Ibn Zafar, 1325-50 AD
Knights in the Book of Customs in the Constitution of Catalonia, 2nd quarter of the 14th Century
The Crucifixion by Paolo Veneziano, Venice, Italy, c.1340
Italian Soldiers in Frescoes at Sabbionara Castle at Avio, Guard House, c1340
Tombstone of Colaccio Beccadelli at Imola, Italy, c.1340
Effigy of Erzbischof von Trier, 1340. Mainz Landesmuseum, Germany.
Effigy of Otto von Orlamünde, German Knight, c.1340. Himmelkron Kloster (Monastery), Bavaria.
Soldiers & siege engines in the margins of the 'Romance of Alexander', Flanders, 1338-44AD. Bodleian Library, Ms. Bod. 264, Oxford
Persian Vassals of the Ilkhanid Mongols in the 1341 Inju Shahnama, Shiraz, Iran
A battle scene in 'Codex Balduini Trevirensis', Germany, 1341. Landeshauptarchiv Koblenz
Chroniques de France ou de St Denis, BL Royal 16 G VI, France, 1332-1350
'Lancelot du Lac' by Gautier Map, Hainaut, Belgium, 1344AD. Bibliothèque nationale de France, Français 122
March (Aries) as a mounted warrior in Typikon, Byzantine Trebizond, Vatopedi Cod. 1199, 1346AD
Fresco of Saint George between two holy bishops, 1340-1350AD. Basilica di San Zeno, Verona, Italy.
Effigy of Bernardino de Baranzoni, 1345-1350AD. Museo Lapidario Estense, Modena, Italy.
Sleeping Soldiers at the Empty Tomb, c. 1345-50. Musée de l'Oeuvre Notre-Dame Cathedral, Strasbourg, Alsace-Lorraine, France.
Archers in the Martyrdom of Saint Christine in La Legende des Sains de Jacques de Voragine, 1348AD, Paris, France, BnF MS Français 241
Barlaam and Joasaph, Byzantine, BnF Ms. Grec 1128, 14th century AD
Byzantine Mosaic Icon with Saint Demetrios and Reliquary
Cuman and Hungarian Soldiers in the Saint Ladislaus legend
Bulgarians in Constantine Manasses Chronicle, 14th century
Illuminations from the collection of Icelandic sagas, the Flateyjarbók, 14th century
Effigies on the Sepulchre of Ardèvol, Chapel of Corpus Christi, palace of the Marquis de La Floresta, Tarrega (Urgell), Catalonia, Spain, 2nd half of the 14th century. Museo Nazionale di Arte della Catalogna MNAC 122009.
Sleeping Guards at the Sepulchre, portrayed as 14th century soldiers, Breisgau Cathedral, Freiburg, Germany, 1350AD.
Fresco from the north choir of the Dečani church nave, Monastery St. Theodore Tiro (Tyro), Visoki Dečani, Serbia, 14th century.
A Byzantine Fresco of the Betrayal. Holy Monastery of St Mary Kastrianon, Old Pyli, Kos, Greece. 14th century
Soldier in spangenhelm on a fragment of a steatite relief icon, Byzantine, 14th century, British Museum 1857,1211.1

Les Voeux du paon. Northern France or Belgium, possibly Tournai, southern Netherlands, ca. 1350. The Morgan Library & Museum MS G.24, f.37v.

'The Battle of Liegnitz in 'Vita beatae Hedwigis.' Silesia, Poland, 1353AD. The J. Paul Getty Museum, Ms. Ludwig XI 7
Kitab fi marifat al-hiyal al-handasiyya by al-Jazari. Book of Knowledge of Ingenious Mechanical Devices, Egypt, 1354
Effigy of Walther Bopfingen, German Knight, d.1359. St. Blasius.
Chronica de Gestis Hungarorum of Mark Kálti or Képes Krónika, Hungary, c.1360
Jalayrid Mongols from a late 14th Century Shahnama
Byzantine style soldiers in frescoes in the Church of Panagia Phorbiotissa, Asinou, Cyprus, 3rd qtr 14th century
Effigy of Duke Christopher of Denmark, d.1363, Roskilde Cathedral, Denmark
Sir Nigel Loring, Order of the Garter, c.1364 in Liber vite of St Alban's Abbey, England, BL MS Cotton Nero D VII, f.105v
David and Goliath. Tomich Psalter, Kilifarefski Monastery, Bulgaria, 1360s. State Museum of History GIM 2752.
Effigy & Donor Figure of Ritter Hüglin von Schönegg (Marschall von Spoleto), St. Leonard Parish Church, Basel, Switzerland, 1369AD.
Soldiers with Pavises, in 'Historia destructionis Troiae' by Guido de Columnis, Manuscript, Venice, Italy, c.1370. Fondation Martin Bodmer, Cod. Bodmer 78, Cologny, Switzerland.
Statues of Knights, Cenotaph of Francis I Montferrand-La Sarraz, Chapel Saint-Antoine, Sarraz, Vaud, Switzerland, c.1370.

Sarcophagus of Elisabeth in the Teutonic Order Elisabethkirche in Marburg, Hesse, Germany, c.1370AD.
The Burke Galloglaich effigy at Glinsk in County Galway, Ireland, late-14th century
Nihayat al-su'l Mameluke manuals of horsemanship and military practice, 1371
Effigy of Hartmann von Kroneberg, German Knight, 1372AD. Kronenberg Castle chapel
Byzantine Emperor John VI Kantakouzenos presiding over a synod, The Hesychast Council of Constantinople, 1351 (with Varangian Guards?). BnF grec 1242, 1370-75
Pompey the Younger, surrounded by his troops, De bello civili by Lucanus, Biblioteca Trivulziana, Milan, Italy, 1373
The brass of William de Cheyne, 1374, St Mary's Church, Drayton Beauchamp, Buckinghamshire, England
Paintings of Italian Soldiers of the mid to late 14th Century
Pen Box, Syria, 2nd half of 14th century. Museum of Islamic Art, Doha, Qatar.
A stone carving of a horse & rider in Dagestan, late 14th century
Soldiers in Scenes from the Life of St. James, 1376, Pistoia Cathedral, Italy
Funeral achievements of Edward, the Black Prince, hung over his monument in Canterbury Cathedral, England
French Soldiers in 'Le Livre de Politiques' translated by Nicole Oresme, Manuscript, Paris, 1376. La Bibliothèque royale de Belgique, ms. 11201-02, Brussels, Belgium.
The Battle of Clavigo - Scenes from the Life of St. James, by Altichiero da Zevio, Italy, 1376-79
Grandes Chroniques de France de Charles V BnF MS Français 2813, France, c.1375-1380
The Wooden Painted Ceiling of the Palazzo Chiaromonte-Steri in Palermo, Sicily, Italy, 1377–1380AD
French costume & soldiers in the Angers Apocalypse tapestry, 1377-1382
Lough Henney Helmet, Ireland, late 14th-early 15th century
Effigy of Garai Miklós, in the armour of a Hungarian Knight, 1380-85
Frescos in Kocel'ovce (Gecelfalva) Church, Slovakia, 1380-1390
Timurid Illustrations of Costume & Soldiers
Illustrations of French soldiers in 'La chanson de Bertrand du Guesclin' by Jean Cuvelier, c. 1380-1392. BL MS Yates Thompson 35
Effigy of Walther von Hohenklingen d.1386. Swiss National Museum, Zürich, Switzerland

Fresco of Teutonic Knights, Lochstedt, East Prussia, c.1390.
Mural of Dorus expelled, Levoča, Slovakia, c.1380-1400
Soldiers on the Třeboň Altarpiece, 1380-1400AD. Church of St Eligius, Třeboň, Bohemia.
Painting on the ceiling of the main hall, Alhambra, 14th Century, also known as the 'Hall of Justice' or 'Hall of Kings' (la Sala de los Reyes)
Painting on the ceiling of the 1st lateral hall, Alhambra, Spain, 14th Century

A Mace in a Byzantine Style Fresco of Three Mounted Saints, Monastery of Diskouri at Mylopotamos in Crete, Greece, late 14th century AD.
Bohemian knights and infantry in the King Wenceslas IV Bible, late 14th century, Austrian National Library Cod. 2759–64
David and Goliath, Byzantine Psalter, manuscript Benaki 34.3, 14th century
Villani Chronicle, Italy,1390s. Biblioteca Apostolica, Vatican.
Chronica de Carrarensibus, Padua, Italy, 1390s
Italian Soldiers in a Latin Translation of Al-taghvim al-seha'at by Ibn Butlan, Pavia or Milan, 1390s. BnF NAL 1673
Tombstone of Tiberto IV Brandolini at Bagnacavallo, Italy, c.1397
Chroniques de France ou de St Denis, British Library Royal 20 C VII, c.1398
A miniature of MacMorogh, the Irish chieftain, coming to confer with the Earl of Gloucester, 1399
Effigy of Heinrich Beyer of Boppard, died 1376. Made in 1399 at Kloster Marienberg Boppard. Bode Museum, Berlin, Germany
A bidower in 'Julius Caesar and Attendants' from the Nine Heroes Tapestries, Flanders, c. 1400–1410
The 1381 Conquest of Naples by Charles of Durazzo, by the Master c.1400 in Florence, Italy
Soldiers in Frescoes in the Church of St Heracleidius at the Monastery of St John Lampadistis, Kalopanayiotis, Cyprus, c.1400AD

Brass of Kuno von Liebensteyn, Teutonic Knight. Poland, c.1400AD
Effigy at Oronsay Priory, Scotland, 14th or 15th century
Drawing of the remains of mural decoration in Holycross Abbey, Co. Tipperary, Ireland, late 14th-early 15th Centuries.
14th or 15th Century Illustrations of Nomad Turkmen of Persia or Anatolia from manuscript Hazine 2153
Icon of Saint Demetrios of Salonika portrayed as a warrior. Byzantine, c.1400. The Temple Gallery D004.
Icon of Saint Demetrios of Salonika portrayed as a warrior. Byzantine, c.1400. Museum of Applied Arts, Belgrade.
The tomb of Felim O'Connor (d.1265) at Roscommon Abbey, Ireland
Stone Tomb Effigy of a Scottish Highland Knight at the Church of Kildalton, Island of Islay, Inner Hebrides, Scotland
Castigos (punishment) de Sanchos IV, Spain, 14th century